Thrive Cambridge Workshop
27 February 2021, 3:00 pm

-

5:00 pm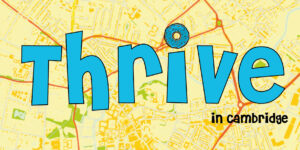 A workshop exploring what it means to thrive as a community through the creation of artworks and conversation. Family-friendly and free.
What does it mean to thrive? What do we all need in order to thrive?
During this workshop we will explore these questions through artwork, and discussion (please make sure you have some paper and pen to hand, or use your computer to draw!). We will map the places in Cambridge where we can thrive, and start to imagine the changes we would like to see to enable us all to thrive while protecting our planet's resources.
The artwork and maps we create will form part of an interactive walk-through map at The Museum of Technology in the summer (if covid-19 rules allow), which will be used to further explore.
The workshop is open to everyone – whether you think you are an artist or not (matchstick men and doodles are hugely encouraged!) – it is family friendly and is free.
This workshop is offered by Hilary Cox Condron as part of her work as Ironworks Artist in Residence, and Forge – the community exhibition she installed at The Museum of Cambridge exploring how we can move towards a kinder future.
In collaboration with the Cambridge Doughnut Economics group and Transition Cambridge using a grant from the Transition Network: Bounce Forward Project and the National Lottery Communities Fund.
BOOK HERE: https://www.eventbrite.co.uk/e/thrive-cambridge-workshop-tickets-141419376161
Any questions, please email us on eventbrite@museumofcambridge.org.uk
We look forward to seeing you soon!
This free event is made possible thanks to a grant by Cambridge City Council.
If you would like to support the Museum of Cambridge, please donate to our fundraising campaign #YourMuseumNeedsYou. Click here to donate online.
Thrive Cambridge Workshop