The Museum of Cambridge has now re-opened after our enforced closure due to the Covid-19 pandemic. We're thrilled to be able to open our doors again, and we can't wait to welcome you back!
We are now open on a limited basis:
Monday, 1pm – 5pm

Thursday, 1pm – 5pm

Friday, 1pm – 5pm
Saturday, 1pm – 5pm
For Half Term (26th October to 1st November) we are open for extended hours;
Monday to Friday 1pm – 5pm
Saturday & Sunday 10am – 5pm
The virtual exhibition, Drawing Connections…at the edges: Art in Prisons, is still available online.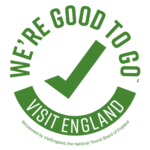 In planning to re-open the Museum, the safety and health of our visitors and our volunteers and staff is our top priority.