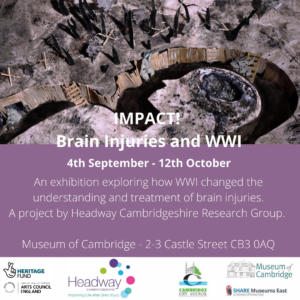 The Museum of Cambridge has now re-opened after our enforced closure due to the Covid-19 pandemic. We're thrilled to be able to open our doors again, and we can't wait to welcome you back!
We are now open on a limited basis, just during the afternoons:
Thursday, 1pm – 5pm
Friday, 1pm – 5pm
Saturday, 1pm – 5pm
In planning to re-open the Museum, the safety and health of our visitors and our volunteers and staff is our top priority.
Find more details and plan your visit.
Our new exhibition IMPACT!, by Headway Cambridgeshire Research Group, runs in the Museum from 4 September – 12 October.
The virtual exhibition, Drawing Connections…at the edges: Art in Prisons, is still available online.