ReStorying OUR Museum was a pilot project that ran from January to May 2021. The Museum of Cambridge wanted to start exploring the colonial heritage in its collections, and how different ways of displaying and curating could offer more diverse and contextualised versions of our objects' stories.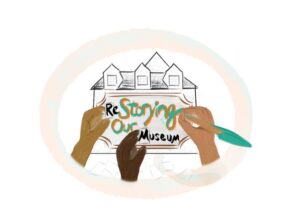 Throughout the project, our staff members and volunteers researched and discussed 'The Tobacconist Sign', to try to understand more about its link to Britain's colonial heritage, focussing on the impact it had in Cambridge in particular. In addition, three workshops were held with members of the community to think creatively about how we can contextualise this object better and re-imagine its label.
We've captured some of the results in the list of resources listed below and an interactive online display, where you can learn more about this item and what our community sessions achieved.
Did you enjoy reading about this project? Do you have comments or suggestions? Please email us on enquiries@museumofcambridge.org.uk