Activity: Ghost Hunt in May with Ghost Hunt UK
19 May 2018, 9:00 pm

-

20 May 2018, 3:00 am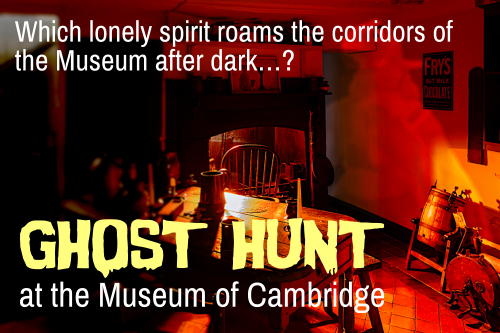 What restless spirits roam the corridors and rooms of your Museum once darkness falls…?

Over hundreds of years, we must have gathered a ghost or two along the way. We know from very recent experience that our spectral residents are active and abroad.
Join us and our friends from Ghost Hunt UK for a night of paranormal investigation and experience the Museum of Cambridge in a new and very different way.
The evening will include a group vigil in as well as a opportunity to explore the unique atmosphere of our building on your own. The Ghost Hunt team will bring a variety of equipment for you to use in your investigations, including K2 electromotive force meters, dowsing rods, a spirit box and a Ghost Ark. There will be a chance to communicate with our etherial inhabitants through glass work, table tipping and a spirit board.
Tickets are available from the Ghost Hunt UK booking page. We can guarantee that it will be a night that you will not forget in a long time…
You can find out more about some of the supernatural happenings at our Museum from our blog.
Activity: Ghost Hunt in May with Ghost Hunt UK