KNIT FOR THE RIVER: Caroline Wright at the Museum of Cambridge
8 September 2019, 11:30 am

-

4:30 pm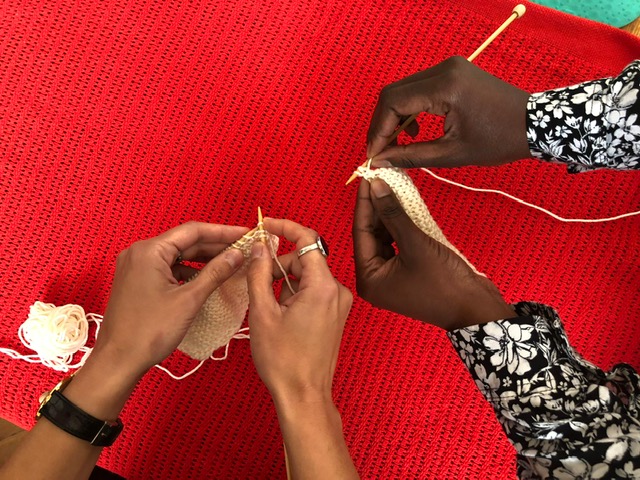 Have you ever knitted or fancied giving it a go?
Would you like to do something to help support the River Cam and its wildlife?
Then come join us and Knit For The River!
Inspired by the River Cam and its textile traditions, artist Caroline Wright is inviting the people of Cambridge to collectively knit a new type of blanket that will be installed on the River Cam riverbank to support the plants and wildlife living there. 
Over the past 3 months Caroline Wright, local artist Cathy Dunbar and members of all sorts of different communities across Cambridge have been knitting hundreds of 10cm squares of undyed wool.
These squares will be joined together into woollen blankets, inserted with native River Cam plants and seedlings, and installed into areas of the river that are naturally eroding. Over several months, as the wool naturally disintegrates, the plants and seedlings will take root into the riverbank, helping to protect, support and maintain the river and its wildlife.
On Sunday 8 September join Caroline and Cathy anytime between 11:30am-4:30pm to find out more about the project, have a go yourself at knitting the final squares and see the blankets be stitched together. All people of all ages are welcome to drop in anytime and no experience of knitting is needed!
KNIT FOR THE RIVER is supported by Museum of Cambridge, the Biodiversity Office at Cambridge City Council and the Cam Conservators and has been created as part of the 'To The River' residency, supported by Cambridge City Council. Produced by Artsadmin.
Sunday 8th September 2019, 11:30am-4:30pm.
Drop in, all ages welcome, no need to book.
FREE
KNIT FOR THE RIVER: Caroline Wright at the Museum of Cambridge