Private thoughts, public debates
A Museum of Cambridge quilt, Accession Number 637.88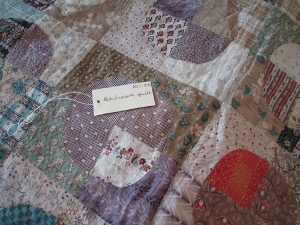 People who know me well are only too conscious of my appetite for all things textile related, particularly quilts and coverlets. Some years ago, I documented the Museum's collection and found this found this one which belonged to the genre of block quilts that were made before 1850. The pattern is commonly called 'Jockey's Cap' or 'Wonder of the World'. It is an old design that uses a simple pattern to create a patchwork block of a circle within a square and as in this case allows for eight different fabrics to be used per block.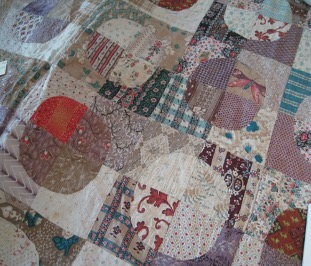 The V&A had a similar quilt in its quilt exhibition in 2010 and I remembered listening to a fascinating talk on their research. Their item had a date c.1829 and was made for a wedding. The main points of interest however were the central panel of a printed panel commemorating the Peninsular War of 1813 which had both a witty inscription underneath and an embroidered panel with a poem on the back.
What can the Museum's quilt tell us? It is a handsome, handmade patchwork quilt made from dress fabrics which are printed in a variety of checked, striped, spotted, floral and geometric designs. The overall effect is one of muted purples.
Some fabric pieces have writing on them which indicates ends of rolls or fents. It may be that some of the fabrics used were specifically sold as patchwork pieces. In addition, some pieces are joined which is a likely indication of recycling from a previous garment; some patches are also repaired by an overlay of a new patch. In general, the pieces are not very accurate or well stitched and the centre is not circular. The maker clearly had an eye for colour and design but was not a great stitcher and was probably not a dressmaking professional. There appears to be no wadding but the whole is hand quilted in square diamonds of side 2" (5cm.). The thread used appears to be linen. There is a question about the bound edge but more of that later.
What other information is there? The Museum Accession Register says only that the quilt is 19th century and came from Sawston, Cambridgeshire. The quilt was accessioned in 1988, a time when interest in patchwork and quilting was being rekindled in Britain; nothing further was said about the maker or owner. A detailed examination of the cream linen backing gives some clues for it reveals a set of initials and a date: A. J. 1846.
Who was A. J.? We can only speculate as to where the quilt was made and who A. J. might have been. I like to think that there was a connection to Sawston but have found little encouragement in the census data for 1841 and 1851. I did find a local Ann Jackson who would have been a plausible maker however my detective instincts decided to go back to the accession register and look at the donor and their family history. The donor's family related to the leather industry in Sawston although originated in Shropshire. Tracking through the male line leads to a marriage with a Jones. Going further back through the generations was not easy given the plethora of Joneses in the area. However, I think that there were sufficient Ann Jones of the right sort of age to have been the maker. I suggest too that the quilt was probably made in Shropshire or neighbouring counties.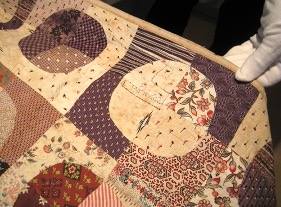 What can the fabrics tell us? In the past purple fabrics have often attributed to fabrics of half mourning. Now though recent research into novels and papers of the mid-nineteenth century we can say with some certainty that these were the cheaper fabrics of the lower classes and were often the uniform of maids. By 1846 there was a preponderance roller printed cottons, as these are. We can also say that the purples came from madder dyes as a synthetic purple was not invented until some years later. One unusual feature of the quilt is the bound edge which is common in American quilts but rarely occurs in Britain. However, I do not believe that we can read anything into this feature.
This account follows my private thoughts about the quilt, and I was pleased to think further on some quilting myths and research debates. If nothing else, it has been an interesting journey! I would like to think that the research means that the quilt is more valued in the Museum's Collection.
Carolyn Ferguson, 10/10/2020