FORGE New Exhibition
17 December 2020, 1:00 pm

-

8 February 2021, 5:00 pm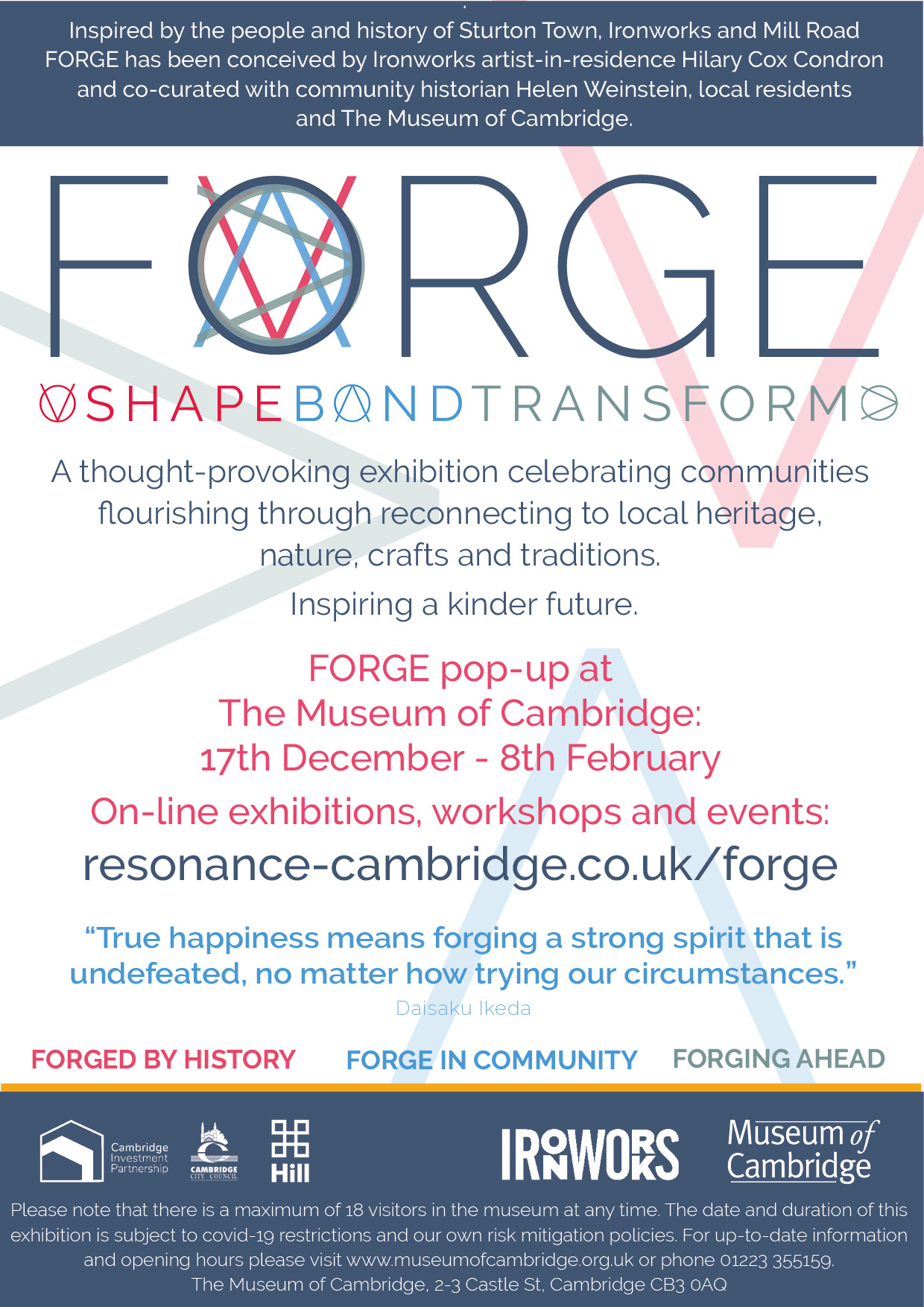 UPDATE: The Museum is currently closed in accordance with the latest Covid-19 rules
FORGE: pop-up exhibition 19th December 2020 – 8th February 2021
The Museum of Cambridge play host to a multimedia exhibition inspired by the history of Ironworks
The FORGE exhibition presents a thought-provoking look and celebration of how the community has flourished through rediscovering and making new connections with local heritage, nature and traditions. FORGE will take you on a journey through the museum to explore artefacts from the past to the present-day. The display highlights how the revival and sharing of these traditions and crafts over the past year has given us hope and helped to inspire a kinder future.
Inspired by the people and history of Sturton Town, Ironworks and Mill Road, FORGE has been conceived by Ironworks artist-in-residence Hilary Cox Condron and co-curated with community historian Helen Weinstein, local residents and The Museum of Cambridge.
Come along to the Museum of Cambridge between the 19th December 2020 and the 8th February 2021 and see the FORGE installations throughout the museum. The exhibitions and digital displays will shed new light on the former occupants of the homes around Ironworks and how the area's past has informed the artworks that will feature within the public spaces being created as part of the new homes being built.
Throughout the exhibition will be a series of online events and workshops for audiences to delve a little deeper into some of the presentations, for a full list and up-to-date information please visit www.resonance-cambridge.co.uk/forge.
Please note that there is a maximum of 18 visitors in the museum at any time.
Opening Times
Thursdays to Saturdays 1pm
1st Sunday of the month 12pm-4pm
There is no need to book your visit and tickets can be purchased at the Museum.
Holiday Opening Hours
The Museum will be closed for the bank holidays on Friday 25th and Saturday 26th December and Friday 1st January. The Museum has added an additional opening day on Wednesday 30th December 12pm-5pm.
Please note that there is a maximum of 18 visitors in the museum at any time and entrance fee. The date and duration of this exhibition is subject to covid-19 restrictions and our own risk mitigation policies. For up-to-date information and opening hours please visit www.museumofcambridge.org.uk or phone 01223 355159.
The Museum of Cambridge, 2-3 Castle Street, Cambridge CB3  0AQ.