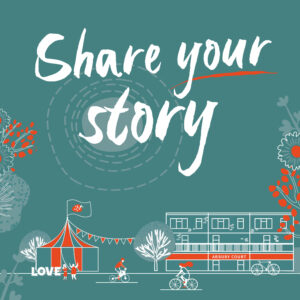 Do you want to connect with other city residents?
Do you want to learn new and fun skills?
Do you want to be part of a rewarding project?
Do you want to make a difference in your community?
Do you want to add your voice to a public space? 
 
If the answer to those questions is YES, then you are in the right place!
The Museum of Cambridge is looking for individuals who want to become Community Curators, as part of the Museum Making project: people from all walks of life who love Cambridge and want to share their stories of, and passion for the city with others.
What is Museum Making?

Museum Making is an exciting project where you, the people of Cambridge, can create real change right in the heart of your local museum, the Museum of Cambridge.
Part of this project is about bringing more and diverse voices into our museum space, involving local residents in everything from exhibitions to our public programme. 
As the Museum of Cambridge, we want to make sure we look after the past, but to also make connections between past and present which are relevant for and representative of the people currently living in Cambridge. Museum Making is all about making this ambition become a reality.
Who can become a Community Curator? 
Anyone who lives in and loves Cambridge is welcome to apply. Ideally you are passionate about the city, are eager to learn new skills and meet new people, and have the time commitment to dedicate to this all-round fabulous project. 
You must be over 18 years of age.
We particularly welcome applications from disabled, disadvantaged, and Black, Asian and Minority Ethnic (BAME) candidates, or any other groups that are under represented in the arts and cultural spaces in city and the museum sector.
What will you be doing if you apply and become a Community Curator?
For a few months, the Community Curators will be at the heart of our Museum's exhibition and event activity. You'll be helping to decide and design what we do exhibitions on, what objects we include,  how we write about them, and what kinds of events we run. 
You'll start by meeting the rest of the community team and staff, undertaking fun training workshops and creative sessions, and then going on to work together to create your own exhibitions which will be displayed in our Museum and/or on our website. 
Ideally, you'll have between 1 to 3 hours per week to dedicate to this. However, we know life happens, work, family and health can get in the way and sometimes you won't be able to make a session or meeting. That's okay! We'll do our best to support you, and make sure we are as flexible as we can possibly be.

Being part of this project will give you the chance to explore what a museum is and what it takes to make one. You will learn about our collections and how they are cared for, the museum and city's history, and you will engage in fun and out-of-the-box activities on your own and with the rest of the Community Curators. All of this will help us explore different topics and ideas, that will shape the final exhibition that we will show in, around, or/and outside the museum.
The tentative start date for the sessions is on the week of 24th of May, and we will give more details about this as soon as we are able.
What's in it for me? 
By becoming a Community Curator, you will be contributing to creating a hub for your local community while learning new skills and making friends. As a Community Curator, you can really help underrepresented groups gain visibility and participation in Cambridge, as well as bringing to the forefront the bigger topics that affect us all to a local level. 
After the sessions are over, you will have: 
-learnt and applied new skills
-made new friends and connections in your local area
-set up an exhibition 
-contributed to the cultural landscape of your city
-and had a lot of fun in the process!
Is this a paid position? 
This is a voluntary position. However, we offer travel expenses reimbursement and will paid for any relevant training opportunities scheduled for the Community Curators.
How do I apply to be a Community Curator? 
It is very quick and easy to apply for this role. You can apply by following this link: https://bit.ly/3seoNkX

It will take you to Better Impact, the software we use to manage the Staff and Volunteers. First you must create a personal account and after that you will be able to head to our application form that you will fill in with your details, and answer to a few questions which are key for us to get to know you better in this first instance. 
If you need help with filling in the application form, just contact us at enquiries@museumofcambridge.org.uk and we will be happy to help you.

We have space for 10 Community Curators, so we will be selecting this number of participants for the first part of the project. We will let everyone know of the outcome within 10 days of the application deadline. 
Don't be discouraged if you are not selected this time! You will have a chance to re-apply when we run the programme again in about 6 months' time. Stay tuned to our social media and newsletter to find out.
Deadline for applications: 10th of May 2021
What is the time commitment required to become a Community Curators? 
Between 1 to 3 hours per week, for ideally 6 months, but this can be flexible to accommodate your needs. The weekly time could increase during the times when we are setting up an exhibition (I.e., half a day for set up or dismantling), but there will also be periods where there is less formal contact time. We'll aim to be as flexible as possible to meet your needs.
Will this programme be online or in person?
It will be a combination of both. Since we are not sure how the Covid-19 situation will evolve during the year, we will be using a combination of online and in person sessions, depending on government guidelines throughout the year.
We're open to hearing from the Community Curators on how they would like to work together, so if you are shielding you can still take part. 
For online meetings, we will use Zoom. For in person meetings, we will meet up outdoors, at the museum, or in community spaces around the city, depending on restrictions t and the needs of the group.
To connect using Zoom you will need to have a broadband connection and Zoom installed on your computer. Installing Zoom is free, and you can access it via a phone, laptop, or tablet.
You can download Zoom here: https://zoom.us/
Community Curators, we can't wait to meet you!!