Covid-19 has dealt the Museum an unprecedented financial blow. As an independent charity we rely on admissions and donations to survive. While we have received some emergency funding, it simply won't make up for the lack of visitors over the last 6 months – and the second lockdown is compounding this.
If the Museum can make it through the present crisis, we are confident it will have a bright, exciting future. But first, we have to make it through the difficult winter months in the face of the pandemic's second wave.
That is why we have launched a fundraising campaign to help us meet our running costs into next summer, when we hope the worst of the pandemic will be over and we can start to attract more visitors again.
We can only do this with your help.
Every donation helps us look after our unique collections.
Every donation helps us to get more people involved, enriching lives and making a difference.
Every donation – no matter what size – makes an important difference.
Regular donations – whether monthly, quarterly or yearly – are particularly welcome as they allow the Museum to plan ahead with confidence.
Legacies have been a vital source of support for the Museum since its foundation in 1936. If you are considering remembering the Museum in your will, then please read our legacy leaflet for more information on how to do this most effectively.
However you choose to give, and at whatever amount, please consider making a donation to the Museum of Cambridge today.
You can support our appeal by sharing our social media posts with your friends, colleagues or networks – we are on Twitter, Facebook, Instagram and LinkedIn. It all helps to spread the word and get people involved. You can also print this poster and place it in your window, to let your neighbours know you support our appeal. Thank you!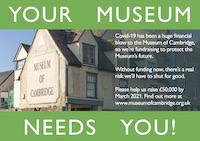 Download