Cambridge Talks: Robert Sayle – Buildings and People
17 March 2021, 7:00 pm

-

8:15 pm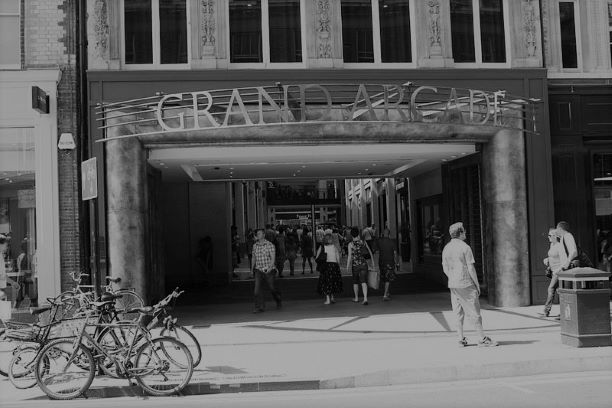 Join us for Cambridge Talks, a series of events raising funds for the Museum of Cambridge's fundraising appeal #YourMuseumNeedsYou.
Do you remember the Robert Sayle department store on St Andrew's Street, Cambridge?
Or perhaps while out shopping at the Grand Arcade, you've wondered about the history of this imposing row of properties?
Before the archaeological excavations for Grand Arcade Cambridge could begin, a detailed record was made of the more than 120 structures standing on the site including the Cambridge institution of the Robert Sayle Department store.
This talk considers the results of this research, and looks at the stories of the people involved.
Alison Dickens has worked in Cambridgeshire archaeology for over 30 years. She recently left the University Unit to set up a small company specialising in buildings archaeology.
All proceeds from this event will go towards the Museum of Cambridge's fundraising appeal #YourMuseumNeedsYou, which aims to help us overcome the huge financial blow dealt by the Covid-19 pandemic.   
We want to say a huge thank you to all our supporters who have helped us over the last few weeks and months. So, we have made this event 'donate what you like' – you can choose how much to donate in exchange for your ticket. 
Please support us to survive the next few months by buying a ticket to this event, and/or donating directly to our fundraising appeal: bit.ly/MOCDonate
We will also be making 10 free tickets available to National Lottery ticket holders, to say thank you to them for supporting our Museum through the National Lottery Heritage Fund.
Simply email a photograph of a lottery ticket bought in the last year to annie.davis@museumofcambridge.org.uk to claim your free ticket. One event ticket per lottery ticket, distributed on a first-come-first-served basis.
How to attend this talk:
This talk will be held on Zoom. There is no need to download any software- you can access the talk via your usual internet browser from the comfort of your own home. Cup of tea/glass of mulled wine is optional!
Once you have purchased your ticket on Eventbrite you are officially signed up to the event and you will receive an automatic confirmation email from Eventbrite. See the Eventbrite link below.
1 day prior to the event, we will send you a 'Zoom Invite' with joining instructions which explains how to attend the talk. Do make sure you check your Junk Mail and Deleted Items, as this email can get lost.
If you have any concerns or questions about attending this event, please email Annie on annie.davis@museumofcambridge or enquiries@museumofcambridge.org.uk. Do not telephone the Museum, as staff are currently working from home.
Cambridge Talks: Robert Sayle – Buildings and People