Our wonderful volunteer Sophie has joined the staff – we are delighted she offered to share her experience.
"I have been trying to find the perfect position in the heritage world for almost a year now, I have always really enjoyed engaging with people about things I am passionate about and heritage and history has always been very important to me. Before starting work at the museum I was working in childcare in nursery settings for almost a decade so taking this jump has not been a straightforward journey but so worth the rewards!
I started volunteering at the Museum of Cambridge as a Front of House volunteer and soon started getting involved in everything I could such as collections care and digitisation. The Museum has supported me in my career goals from day 1 and continues to do so as an employee. I have found so much joy in my first month (almost!) of being here. These are just some of the highlights that stand out to me.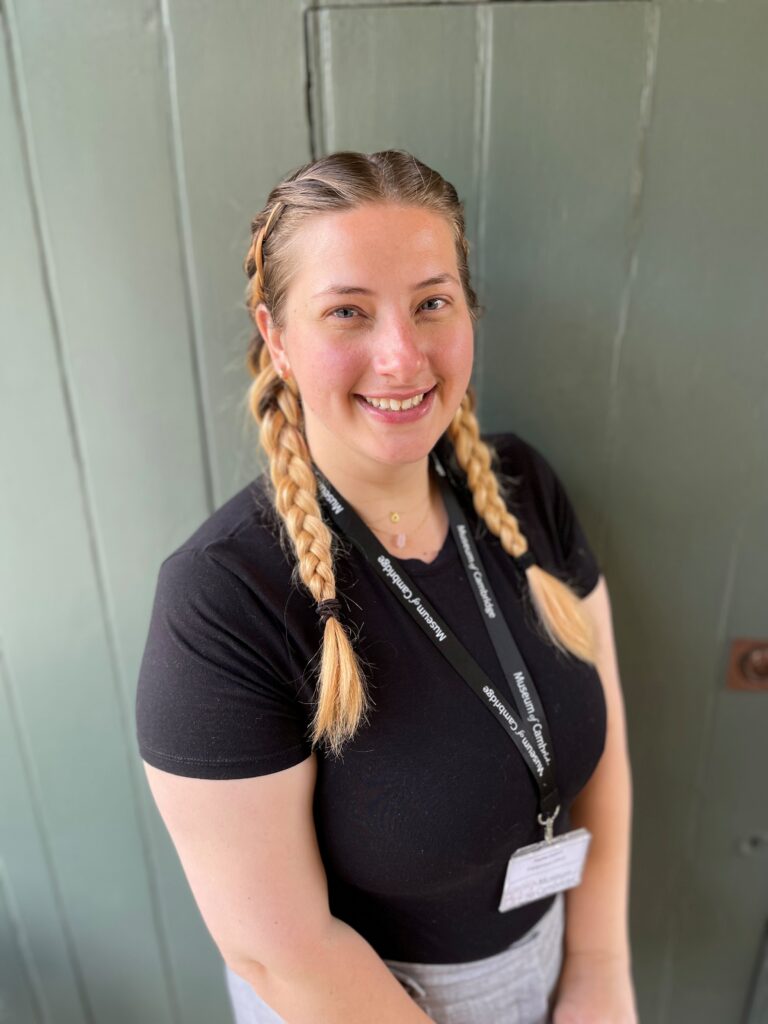 First times
I cannot get over the fact that I am allowed to work in such a lovely building let alone be a keeper of the keys! Independently opening and closing the building felt a bit like walking through a haunted house because of the drafts, creaky floors, dolls and watching one too many horror films!
Some of the more mundane firsts (but very exciting for me personally!) were changing out my volunteer name card for an Engagement Officer card felt like a physical representation of a years hard work to achieve this position. Having previously worked in Nursery settings I had never had a job where I had my own desk and equipment, so that felt like I was really turning over a new leaf on my journey.
One of the most exciting things about this is I get to explore where all the secret rooms and passages are that we have as well as the very expansive collection. The first time I went up in to the attic and saw everything in storage from model boats and dolls houses to family photo albums with personal history written in. The best part of this exploration is that I could work here for a lifetime and still find something new every time I look.
I was especially pleased when my profile went up on our website and I could share it to all my friends and family and be one of the faces of the Museum of Cambridge. Now whenever anyone looks up the Museum my name and face are there as proof of the work I get to do here.
Working with the team
Over the past year I have built wonderful relationships with volunteers, staff members and trustees but it was really special to have all of their support in this transition when they have been rooting for me for the last 10 months, helping with applications and providing moral support when it felt like it wouldn't happen for me.
Being part of a team that is being rebuilt and restructured is so much fun, I get to meet and build new relationships with new people who all have a mutual love of the Museum and the arts AND helping figure out what parts of running the museum day to day and year to year goes into each new role.
As the Engagement Officer specifically I have been introduced to a whole new world of arts and culture in Cambridge and it has been really motivating to speak to so many people who share the museums goal of extending this world to as many places and people in Cambridge as possible.
The role itself
As an engagement officer I get to be hands on in implementing volunteer suggestions and interests which feels very special because the Museum has been able to facilitate so much of my progress. It feels as if it has come full circle and now I can help others to engage with the museum and find their own successes within the sector!
My favourite part of being at the museum has been interacting with people and hearing all of the stories that come through the door about Cambridge that I never would have known if not for the ability to hear oral history accounts from visitors and staff alike. Such as….
The outreach program that the museum is implementing this year is really exciting! I am thrilled to be able to have responsibility for running activities and spreading the word about everything that is going on at the museum from Museum on a bike, to community exhibits, running stalls and activities in collaboration with partners around Cambridge. Being able to support outreach in to underfunded areas and help support communities in my hometown to thrive is really important to me. Being able to combine my work in childcare with my love of history, heritage and the Museum through our Outreach in crafts and communities for 1-5 year olds and their families.
I would not have been able to find my feet so quickly without the guidance of the staff, trustee's and volunteers. Specifically, Roger Lilley and Lucy Walker who helped me run my first event at Arbury Carnival. Thank you!"
From front of house to behind the scenes!