By Kirsten Huffer, Collections Officer
Have you heard creaking footsteps coming from the attics lately? Or noticed the north stairs' "no access" sign has been replaced with one inviting you to chat with us while we're working and share ideas about what you'd like to see when we reopen our second-floor gallery? That's because we're working on something big: inventorying and tidying up our attic stores and re-displaying the playroom, which closed during lockdown.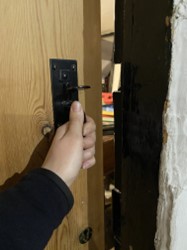 Since joining the Museum of Cambridge as a Collections Officer in January, I have found challenges, opportunities for improvement, and lots of fascinating objects!
My main challenges there were to (1) help tackle the Museum's inventory backlog to uncover exciting unnumbered and unlocated objects and (2) improve the dusty, crowded storage conditions so we ensure visitors can enjoy these objects for many years to come. Accredited Museums like ours need to have core information about every object they care for, or they need to have a plan for gathering that information. And that's where I came in! I set out to inventory the contents of three of the Museum's attic rooms, totalling about 1,000 objects. Doing so involved carefully playing iSpy with every object to check for its unique object number. Then, I updated each object's location on our collections database. When no object number was in sight, I tagged the item with a temporary number, recorded its name and a brief description, and added its location to my growing inventory spreadsheet.
Tackling these challenges has created plenty of opportunities for major improvements, made possible by the National Lottery Heritage Fund grant for our Museum Making project. When I wasn't playing iSpy or cleaning the attics, I was honing my Tetris skills by relocating objects to store them more safely and efficiently. New shelving has reduced overcrowding, raised numerous objects off the floor, and will make future access, inspections, and cleaning much easier. All of that means we will be able to care better for our objects so that they last and keep looking their best for generations of future visitors. And with funding from the Foyle Foundation, the Museum is eager to make further collections storage improvements in the coming year.
All of this work has transformed the attic floor in preparation for its reopening. After this project and the building works are completed, the attic floor will open as a space for temporary exhibitions and as a kid-friendly place to engage with Cambridgeshire's history.
For now, I'll share a sneak peek at what we found hiding beneath bubble wrap, tucked in obscure corners, or set just within trapping, I mean, tripping distance on the floor—including man-traps and thatching shears and Fenland treasures galore! Above all, we were thrilled to unearth hundreds of "lost" objects that were previously (1) unnumbered, (2) listed as "not located" in our database, (3) in the incorrect database locations, or (4) not entered in the database at all. Among them, we uncovered everything from asparagus saws to barrel taps to lace bobbins to doll houses to pub games and everything in between.
If you'd like to see what we've been up to in our attics, we'll be opening a viewing platform to give you a behind-the-scenes look at the building works, attic inventory, and gallery re-display. So, visit us soon to take advantage of this unique opportunity, and stay tuned for the upcoming re-opening of the attic gallery. You won't want to miss getting hands-on with Cambridgeshire's history in new ways and experiencing our first temporary exhibition in this reinvented space. We can't wait to welcome you back to the attics!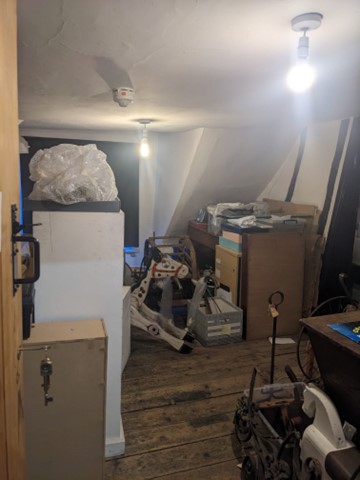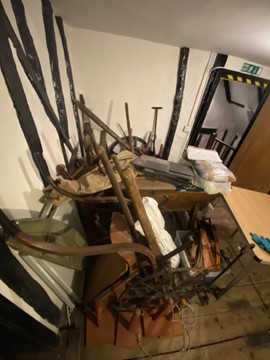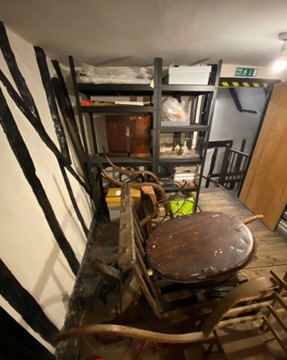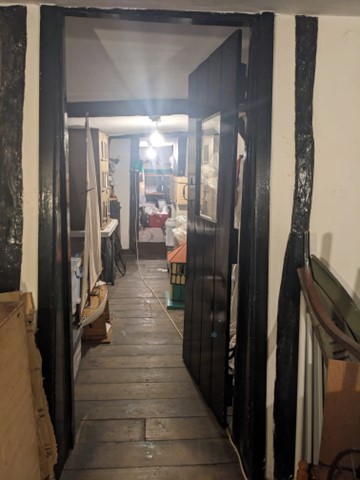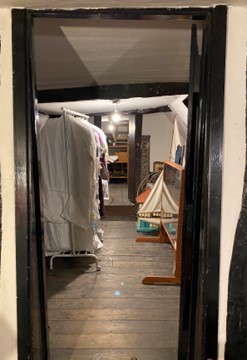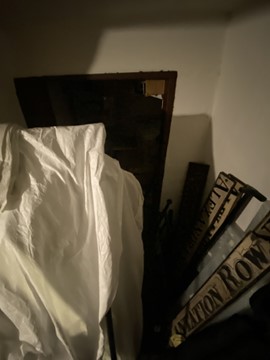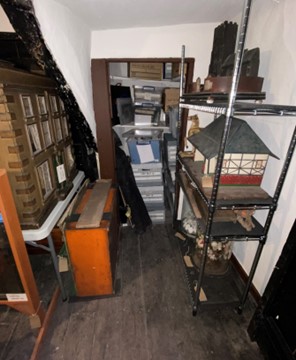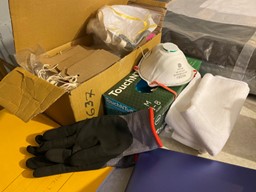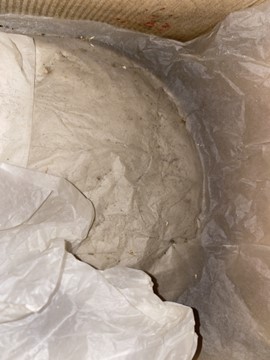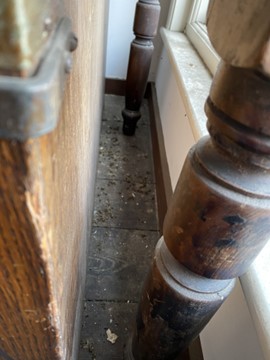 All photographs by Kirsten Huffer unless otherwise noted. 
Lofty Ambitions: Attic Makeover & Gallery Re-Display