The Museum is delighted to announce that we have received a generous £450 grant from the Mill Road branch of the Co-op. This funding will support the development and expansion of the Museum's loan box programme for local schools, allowing hundreds of pupils to engage with their local history through hands-on experiences with historical objects.
The loan box programme, is a cornerstone of the museum's outreach work, offers schools in Cambridge and the wider county the opportunity to borrow themed boxes containing a diverse range of historical objects and replicas. Each box is tailored to explore various aspects of local history, such as Victorian school days, toys through history, and even the rich heritage of Cambridgeshire's homes.
Annie Davis, Director said:
"With this generous grant from the Co-op, we can continue providing high-quality activities that bring history to life for young learners. We have seen a tremendous demand for our loan boxes, with teachers eagerly requesting access for their students and long waiting lists. This funding will help us maintain and expand our loan box collection, ensuring that more pupils can discover and appreciate their local heritage."
The Museum of Cambridge's loan boxes have become increasingly popular, resulting in a long waiting list for schools interested in borrowing them. In addition, some of the boxes contain handling items that are in desperate need of replacement, jeopardising their future availability. The Co-op's grant will allow the museum to refresh and replenish its loan box supplies, ensuring that these valuable educational resources can be enjoyed by students for years to come.
Alex Smaridge, Engagement and Collections Manager said:
"We are grateful to the Mill Road branch of the Co-op for their support and belief in our mission to make local history accessible and engaging for children. This grant will enable us to print new worksheets on recycled paper, purchase authentic replicas and items for our handling collection, and acquire additional boxes for an expanded loan box collection. We are excited to enhance the learning experiences of pupils in our community and inspire a lifelong love for their local history.
The Museum of Cambridge extends its heartfelt thanks to the Co-op for their generous grant, which will undoubtedly have a lasting impact on hundreds of school pupils living in Cambridge.
If your group or school is interested in our loan box scheme you can find out more on website Schools – The Museum of Cambridge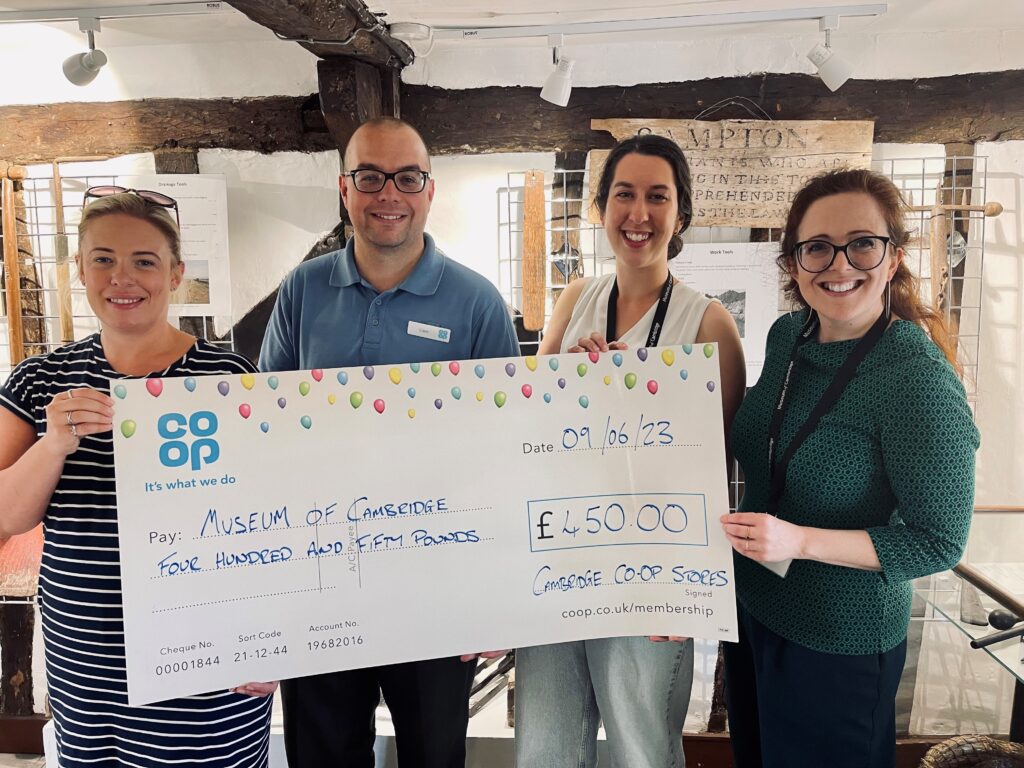 Museum of Cambridge Receives Donation from Co-op for Schools Loan Box Programme