A photo of a horse brass sent to Capturing Cambridge a few months ago has triggered a curious investigation and a journey from football to leather briefcases and eastern mysticism, all centred on Norfolk Street! The horse brasses are on leather mounts stamped with the name of F Wilson and son, saddlers, Cambridge. Nothing unusual about that; we know from the 1962 Kelly's that F Wilson, saddler, lived at 11 Norfolk Street.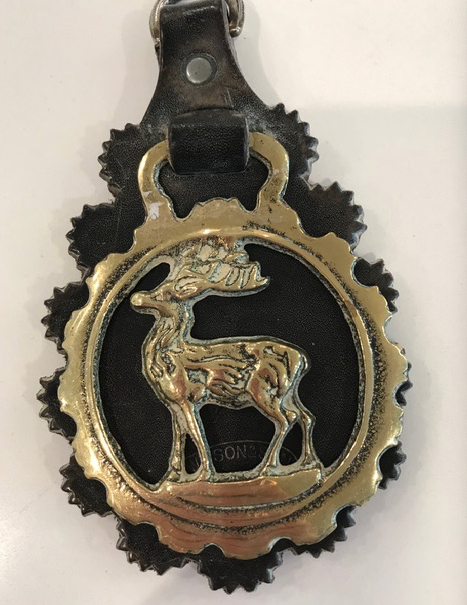 The next message I received though was about a book, 'A Fortune In Life.' A mysterious book – it is anonymous and gives away very little about the possible identity of its author. Published in 1988, it is a very thought-provoking series of reflections on the importance of self-knowledge in seeking self-fulfilment and happiness in life; in short, the thoughts of someone who has thought very deeply and eloquently about his own personal philosophy.
I was then told that this was the writing of the same saddler, F Wilson. My contact had himself been very deeply moved on reading this book many years ago, as had others he had met. But what of the man himself?
This is where the football comes in. As far back as 1955, Frank Wilson, Cambridge saddler, was in the news for his ingenuity in creating new technology for soccer practice. He had qualified as an F.A. coach the same year. But his main claim to fame in the football world, reported on at least four times in the Cambridge press during the 1970s, was the remarkable record of the football team he managed and coached, Coleridge FC.
What was so special about them? Well, they never committed fouls on other teams and showed extraordinary self discipline in their success. An interview in 1972 reports Frank Wilson as saying, "Really all I do is apply the principles of yoga thinking to influence the players. There is no mystery in it at all." He goes on to say that the most important aspect of managing Coleridge FC is to make sure the players develop the right attitudes. He didn't expect his players to retaliate if provoked; those without the right attitudes were not selected.
In 1976 the Cambridge Daily News reported that Coleridge FC hadn't committed a foul in over 22 seasons. Meanwhile he carried on his job as a saddler and worker in leather living with his wife over his shop in Norfolk Street. One report is of a giant briefcase costing £600 made for a barrister. In 1986 a journalist visited Frank in his shop. He is described as 'impish' in his 'tiny, time-warp of a leather shop.'
This is just before two mentions in the press at the end of 1988 of the book, 'A Fortune in Life'. No mention of an author, the book is advertised in the classified ads section, first with the strap-line, "Would you like to help a distressed friend?" and then after "The book which defines the purpose of balance".
What happened to Frank? Where did he come from? Why did he become so interested in yoga and philosophy?
We would like to hear from anyone who remembers Frank, his shop, his football career, and above all, anyone who can throw any light on this mysterious yet clearly much admired man.
For everything we know at present about Frank Wilson including photos, please visit https://capturingcambridge.org/petersfield/norfolk-street/11-norfolk-street/
If you can offer us more information please contact us on capturingcambridge@museumofcambridge.org.uk
A Mystery on Norfolk Street!