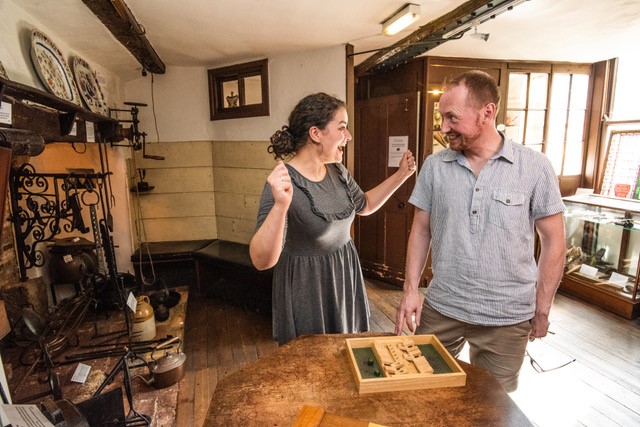 The Museum of Cambridge is pleased to announce the success of our fundraising campaign. Launched in November last year, the fundraising campaign aimed to raise around £50,000 – enough to keep the Museum going through lockdown until it could open again.
We're delighted that, due to the amazing support of hundreds of supporters, the Museum will be able to open again later this month.
The impact of Covid-19 has been severe and unprecedented. The Museum lost around a full year of opening and the associated income from admissions – admissions income made up around 84% of our 2019 commercial revenue. We also lost income from additional commercial activities as we were unable to hire out our events space or run educational workshops for English Language schools in Cambridge. The total impact of Covid-19 runs into many thousands of pounds.
The Museum had never undertaken a fundraising campaign like this before, so there was considerable apprehension about what might be possible and the chances of success. There was a very real risk that the Museum might have had to shut for good.
Lockdown compounded the challenge, making any in-person fundraising events impossible. But the response the campaign received from so many supporters, right from day one, was hugely encouraging – it became very clear very quickly to us just how important the Museum is to so many people. To date, we've received donations from around 300 people – people from all parts of Cambridge, many of the surrounding areas, and indeed from around the world.
In this time, the Museum has also been successful in securing support from the government's Culture Recovery Fund, giving us added financial security in reopening and enhancing our summer opening plans.
The Museum has received a further boost from the City Council's decision to grant the Museum a rent holiday for the forthcoming financial year.
Lucy Walker, Chair of Trustees, said:
'We're so pleased that our fundraising campaign has been a success. It's been a lot of hard work for many of our volunteers, trustees and staff, but it's paid off.

'Late last year was a very worrying time for us, as it was for many cultural and heritage organisations around the country, so it's a relief and a great joy that we will be able to re-open to visitors again soon.'
Daniel Zeichner MP, said:
'I'm delighted by this news. I love the Museum of Cambridge and I'm very supportive of the Museum's work with local schools and community groups. The Museum offers something truly characterful and distinctive to both visitors to Cambridge and to the people of Cambridge and the surrounding areas. I'm thrilled that the fundraising campaign has been a success and that the Museum will open again soon.'
Matt Hann, Fundraising Trustee, said:
'This is great news for the Museum, and testament to how important the Museum is to so many people in Cambridge and beyond. The level of support we've received from so many people has been wonderful to see – and we're hugely grateful to the many, many people who have supported our fundraising campaign.

'The Museum has always relied on fundraising – right back to 1936 when generous donations allowed the Museum to be set up in the first place. Our supporters, donors and friends play a central role in the life of the Museum, hugely enhancing what we are able offer visitors, and this will always remain the case.'
Museum of Cambridge succeeds in fundraising campaign