Having a life-long interest in early agriculture, I was quite excited to have the opportunity to 'adopt' an item in the Museum of Cambridge's collections that had been of pivotal importance in the lives of farming families, around two millennia ago. A little bit of research has brought it to life. Here is what I have discovered.

Martin Jones, November 2021
The Rotary Quern
Rotary querns, such as the one whose top-stone is on display at the Museum of Cambridge (above), were central to flour production in Iron Age and Roman Britain. They were skilfully fashioned from carefully chosen hard rocks, into shapes that followed regional styles. In Sussex they were drum-shaped, and in Wessex they were pan-shaped. In Eastern England, and East Anglia in particular, their style was more conical, as in the case of this Museum specimen, and those illustrated by Curwen (1937).
A quern consists of a top and a bottom stone. The quern's rotary action (with cereal grains poured in from above, the flour exiting from the base of the top-stone as it is turned by a wooden handle), to fall into a basket or wooden chute, allowed for a more continuous production than the saddle quern that preceded it in the Neolithic and Bronze Ages. Rotary querns are often imagined as household items, as seen in the image of Palestine around 1900 (below right). However, in parts of the world where they remain in use today, they sometimes serve as communal facilities, as in the example form North Thailand (author's photo 1977, below left).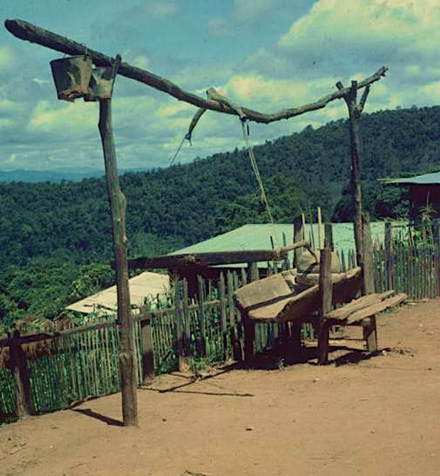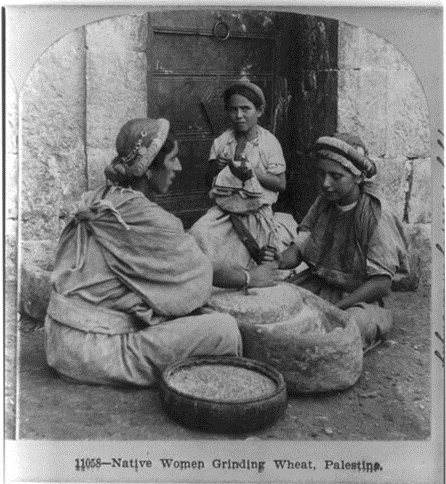 To attain an effective milling surface, the choice of rock type is critical, and and people quite often chose stones from quarries which were not local. The Museum quern is made of Hertfordshire Puddingstone (so named by the Victorians on account of its resemblance to a Christmastime plum pudding). This stone is a natural conglomerate of rounded flint pebbles set in an extremely hard silica quartz, formed within an ancient pebble beach. It can be quarried forty miles to the south of Cambridge in Hertfordshire, where two ancient quarry sites have been located south of the village of Puckeridge, East Herts. At one of these sites a fragment of a very similar top-stone was found (see Lovell & Tubb 2006).
Other Hertfordshire puddingstone querns are known in the area, sharing the same East Anglian conical form, such as one found in Eversden, just west of Cambridge (CAFG 2019). The stone is extremely hard and these querns were so favoured for grinding cereal grains, they also travelled much further afield, and a very similar specimen to that on display in the Museum of Cambridge made its way to the Channel Islands.
This post was written by Martin Jones
REFERENCES:
Cambridge Archaeology Field Group (2019) Querns and Quernstones 1-14.
Curwen, E.C. (1937) Querns Antiquity 11, 133-151.
Curwen, E.C. (1941) More about querns Antiquity 11, 15-32.
Jones M.K. (1981) The development of crop husbandry. In: The environment of man: the Iron Age to the Anglo-Saxon period (eds M.Jones & G.Dimbleby) Oxford: British Archaeological Report 87 95-127.
Lovell B. & Tubb J. (2006) Ancient quarrying of rare in situ Palaeogene Hertfordshire puddingstone. Mercian Geologist 16(3) 185-189.
The Museum of Cambridge's Rotary Quern