The Diaries of Josiah Chater reside at the Museum of Cambridge.
A family member has also recently donated a painting to the Museum of Josiah and his wife Agnes, by Charles Ernest Butler. Alex Smaridge, Engagement Manager will share details about the painting and the restoration work required by the Museum in the coming months. In the meantime I have been doing some reading to discover more about the man behind the diaries.
Enid Porter, first Curator of the Museum of Cambridge, recorded the Josiah Chater diaries in her book "Victorian Cambridge".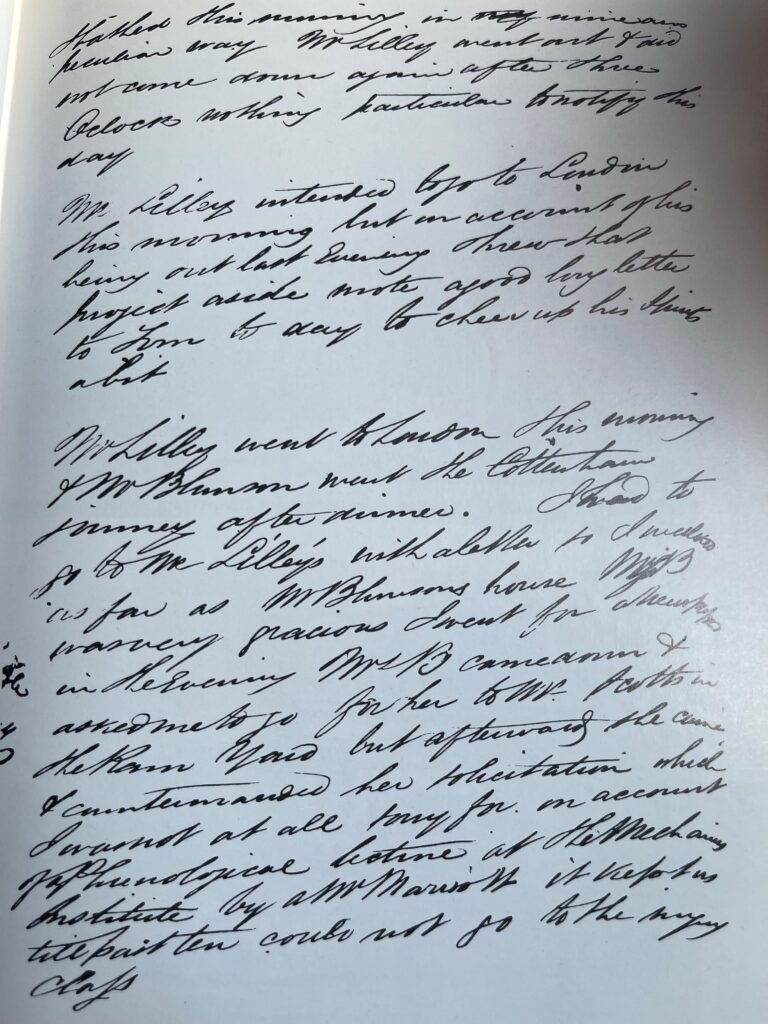 Who was Josiah Chater?
Josiah Chater was born in 1828 in Saffron Walden. He was apprenticed in the counting house of William Eaden Lilley's drapery shop on Market Street when, at sixteen years old in 1844, he began to write his Diary. He continued it until 1883, recording his great venture in setting , in partnership with his brother William, the woollen drapery firm of W.G&J Chater, first in Sidney Street and later on Market Hill, his marriage, the birth and upbringing of his large family and the dissolution of the brothers business partnership which led to Josiah becoming the first Chartered Accountant in Cambridge. In this capacity he served as secretary to several local companies, not least among them the Cambridge Street Tramways Company which enables him to record a unique account of the difficulties faced on the establishment of Horse drawn trams in Cambridge.
There are so much valuable information in the diaries which paint a vivid and fascinating history of Cambridge during Josiah's lifetime. However for me the excerpts about his personal life are the most rewarding.
So I am going to share here an excerpt for "Victorian Cambridge"..
"Even in the midst of settling in at 20 Sidney Street in 1850, Josiah continued to see as much of Agnes Barrett as he could, in her own home and at friends houses. They went to Church and Chapel together, for Agnes, although a member of the Church of England and a fairly regular attendant at Holy Trinity Church, did not object to going also to St Andrew's Street Chapel or to the Independent Chapel in Downing Place.
On 13th May 1851 Josiah approached Mr. Barrett for permission to become engaged to Agnes. 'I fancy', he wrote, 'that I made a pretty tolerable impression on him', but he had to wait a fortnight before he was given an answer. On 29th May, however, a month before Agnes's 18th birthday, the young couple were told that they might consider themselves officially engaged.
In March 1853 Josiah felt himself in a sufficiently secure financial position to begin making plans for the wedding, and so he and Agnes began to look for a house. They went over one or two that were for sale in various parts of the town , but Josiah was particularly attracted by one in St george's terrance, a row of houses which formed part of Chesterton Road. On 2 May he took his future father in law to see it:
'he was very much pleased with it, complaining only at the distance; but we walked it in 12 minutes. Then I came back and went over again with Alfred and Eliza; the latter is delighted with it and recommends our have it'
On May 5th he told the home owner, George Shipper the iron-monger that he would take the house on lease, and very soon began to get the garden in order, to fix new roller blinds and to arrange for workmen to whitewash and paper the rooms. The early part of June was spent buying furniture: six chairs for £1 10s., a table for £4 15s., a bedstead and mattress for five guineas are among the various purchases which he noted in his diary.
Agnes would consent only to a marriage in church, so on 25 June 1853 the rev. C. Clayton, Vicar of Holy trinity, was asked to perform the ceremony. Two days later Josiah bought the wedding ring, which cost him 10s., and a marriage licence, considerably more expensive at £2 6s.
On 6 July:
'The long looked-for day arrived at least and now it seems to have come all at once somehow. I did not get much sleep last night…. After some slight refreshment we met at Mr Barrett's and punctually at half past ten the march to church commenced – I with Harriet Barrett, William with Eliza Barrett, Fred Barrett with Eliza, Father and Mr. Barrett with Agnes. The service was conducted with much decorum and after it we assembled at Mr Dixon's for breakfast. 26 sat down, among them three clergymen: Mr Charles Clayton, who married us, Mr Ralph Clutter, who came over from Saffron Walden especially, and Mr Frederick Whitehead, the curate of holy trinity. Before breakfast commenced, Mr Clayton read from St John the account of the miracle at Cana and made some exceedingly appropriate remarks thereon, and afterwards engaged in prayer. We then commenced breakfast, which was certainly a very neat and elegant turnout… Mr Clayton proposed the health of the bride and bridegroom… we chatted the afternoon away until half past 4 o'clock, then Agnes and I bade adieu and William and Mrs Dixon went to the station with us. We got to Slough on the great western to stay the first night.'
The 10-day Honeymoon was spent in Bath, Bristol and Chepstow, ending in a weekend at Saffron Walden where, on the young couple's arrival, 'the bells struck up a jolly peal on our account and made us feel quite proud'.
The diaries go on to talk about how on their return Agnes' father was indeed right and the distance from town was too much. Whilst Josiah may have been able to make the walk in 12 minutes, Agnes, hampered by the skirts of the day most definitely could not!
If you are interested in learning more about Josiah Chater and his diaries, you will need to locate a copy of Victorian Cambridge second hand as they are no longer in print. In addition stay tuned for more information in the coming months about the painting.
The preservation of the diaries and the many other valuable artefacts here at the Museum of Cambridge is only possible with your help. If you are able to contribute please click here to see ways to support us.
Josiah Chater's Diaries – a glimpse back in time.