The Arbury Carnival returns to the Museum of Cambridge! This year marks the 45th anniversary of the carnival. Not only we will we have an exhibition at the Museum all about the history of the carnival – we will also be there!
The Arbury Carnival is an annual celebration held on Campkin Road, adjacent to the Arbury Community Centre, in the North of Cambridge, on the second Saturday each June.
It was first held as a small local event in 1977 to celebrate the Queens Silver Jubilee and has carried on getting bigger and better with each passing year. It now hosts between 3000 & 5000 visitors. It is organised each year by the Arbury Carnival Committee, primarily run by a group of volunteers.
It includes a procession, arena entertainment, a children's area, products and variety of food stalls. There is also Arbury "Pop in the Park" featuring local groups.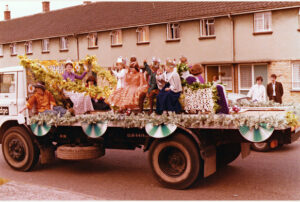 The Museum of Cambridge also worked closely with the carnival for a temporary exhibition for their 40th anniversary, so this year marks a continuation of that tradition. The Exhibition was a Capturing Cambridge Collaboration with Kettles Yard, Karen Lingley, the Carnival itself, Alan Soer and many former and current residents of Arbury who took the time to share stories, memories and photos.
Alex Smaridge, Engagement Officer shared – "We are so excited to be taking the Museum "on the road" to the Carnival itself this year. Arbury has such a rich history and is an integral part of the Cambridge community we aim to serve and represent here at the Museum of Cambridge. We are fortunate to continue to build relationships between the museum, the carnival and the people of Arbury."
This year's 45th Anniversary builds on that relationship, and we are thrilled that there are three ways that you can get that Carnival feeling.
Firstly, the festivities kick off on the 30th May, we will be hosting a community workshop in Arbury Community Centre where member of the local community will be welcomed to work together to create bunting for later display at the carnival. This will be a fun and interactive session for all the family. We kindly ask that those wishing to attend pre-book their slots so that we can accommodate everyone and have enough supplies. This project is made possible by the National Lottery Heritage Fund.
Secondly, we will be at the Carnival itself from 12 noon on 11th June. We will have a stall and there will be a big banner so we should be easy to find. There will be activities for young and old alike and the chance to get really up close and personal with some of our amazing artefacts! We are excited to welcome everyone to chat and share their memories of Arbury, the surrounding areas and of the carnival.
Finally, saving the best to last, come to visit the Museum from 6th June to 8th August and experience the amazing, and immersive new exhibition in our Dining Room and Community Showcase cabinet. There will be a vibrant and multi-sensory exhibition, with soundscapes and oral histories provided with the kind assistance of Kettles Yard. Giving you the feeling of stepping into something special – a little like Narnia – but warmer!
Annie Davis, Development Manager enthused "The vibrancy and creativity of the Arbury carnival speaks volumes about the community. We are so proud to be working to ensure that the people of Arbury are welcomed to the Museum of Cambridge across the next two months to see and learn even more about the history of their home and of this fantastic event. Whether you were a Carnival Princess, viewing from up high on a float or enjoying an ice cream and watching with family. The exhibition has something to bring your memories flooding back. For all those who have never had the chance to go – this is your chance to learn! (ice cream not included)"
In 2014 Kettle's Yard commissioned social documentary photographer, Katherine Green who, in collaboration with communities across North Cambridge, captured the growth of community-led activity in the area since its formation. We featured her fantastic work on 'Capturing Cambridge' an amazing resource for anyone wishing to explore the History of Cambridge – you can find her work and her collaborators here.. Arbury Carnival | Capturing Cambridge
Additional credit to Kettles Yard for shared resources for this project and photography, to the work of Katherine Green, credited above, and to Florencia Nannetti who has taken the Museum on the road. Additional thanks to all those who have shared their memories, experiences and time to bring this exhibition and work to life.
Arbury Carnival – three exciting ways to get involved