On 6th June the team from Museum of Cambridge held a wonderful, craft filled workshop with the people of Arbury, and surrounding areas in the north of Cambridge, alongside the main Carnival to create some exquisite bunting all ready for the main event. We had numerous families, couples and individuals join us at Arbury town park behind the Arbury Community Centre to help create a unique keepsake item which is now proudly being displayed in our Arbury Carnival exhibition at the Museum (open until 6th August and included in general admission to the museum)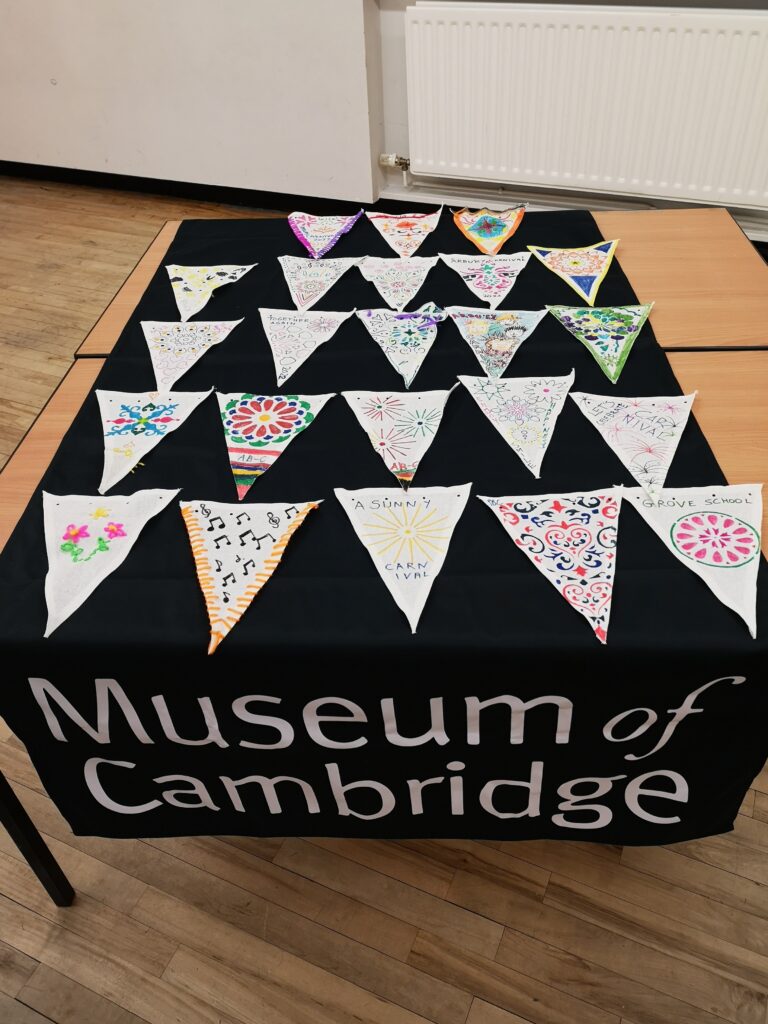 The Museum Team were also out in force at the Carnival itself on June 11th with Sophie Casford, Engagement Officer, making her off site event debut as a member of the permanent team. She was joined by Diana Turner and Lesley Whittaker, Volunteers, Lucy Walker, the Chair of trustees and Roger Lilley trustee who helped share the joy of the museum with the people of Arbury and all those attending. What transpired was yet another joy filled and vibrant display of local pride! The residents of Arbury who came and participated at the stall or neighbouring stalls were also offered the chance to come down to the museum in the coming months with a free tickets scheme.
The Museum of Cambridge stall gave residents opportunities to get up close and personal with some of the objects from the museum being taken on the road, make their mark in the museums community exhibit and reconnect between generations old and young with our toy box (boxes are available for loans – if you are a teacher or work in another educational institution and are interested in borrowing a box please get in touch on enquiries@museumofcambridge.org.uk).
We were delighted to work with the team at the Arbury Carnival for their 45th year and this is still being celebrated at the Museum with the current exhibition which runs from now until 6th August in the Dining room at the Museum. We hope to see you over the coming weeks to enjoy that Carnival feeling a little longer!
Scorching Success at Arbury Carnival