A few years ago, I surveyed films released in Cambridge in 1914 as found in newspaper adverts. Based on this sample, most films at the time were of recent US production, a few were British, and occasionally there were others from another European country. Sometimes films older than a year were shown, but 'shorts' (usually one reel lasting ten minutes) were being produced in large numbers each year by the start of 1914, there was little need for cinemas to resort to older material.
Sadly, of the many films that we can find listed at cinemas for these years, virtually none have survived. This is for several reasons, but not least the inherently unstable chemical nature of the film.
One observation in relation to the outbreak of war that can be made by looking through the listings of films shown in Cambridge in 1914 is that, after August 1914 and the outbreak of the First World War, the number and variety of films appears to reduce considerably. Before August, the Playhouse in Mill Road was showing around twenty or more different films each month. Most of these were films made by the major US companies such as Vitagraph, Keystone, Edison and Essanay. But there were some from Europe and, in particular, from the British companies Folly Films, Selsior, and London Film.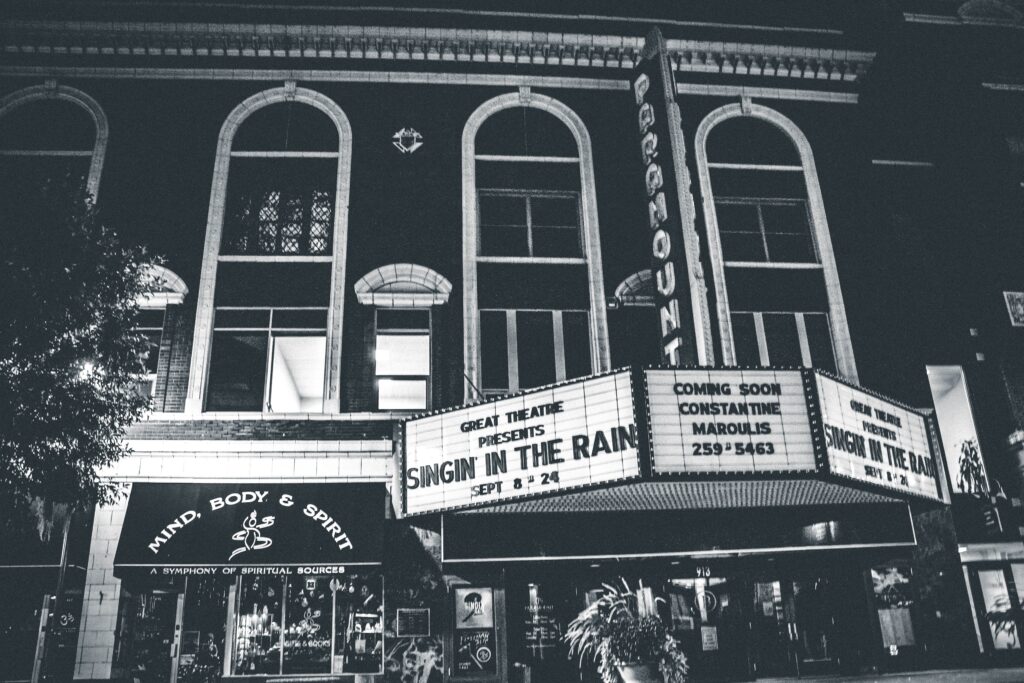 After August 1914 the evidence from newspaper advertising is that the number of films on offer fell significantly. In particular, the availability of films from the USA diminished, leaving British films as the staple fare. There is the curious case of the Austrian film of William Tell being shown in November of 1914. Perhaps this was because of the theme of rebellion and defiance.
By December 1914 there are examples of films being produced on war themes, playing on popular fears. In 'England's Menace' the daughter of the Prime Minister's secretary exposes a butler as a spy and foils a foreign invasion. In 'Two Little Britons' a Foreign Secretary's children unmask a teacher as a spy.
As regards other entertainment alongside films, this seems to have continued after the outbreak of war. Dorothy Cameron, the singer, performs a programme of patriotic songs in November. There is not yet evidence that musical acts were used as direct recruiting agents.
Regular adverts appeared in Cambridge newspapers advertising the programmes at The Playhouse in Mill Road. There were occasionally live entertainment acts that might be classical or musical hall performances or comedians, but most of the fare consisted of films. There would generally be a mixture of the dramatic and the comic. Most of the films were short – one reel lasting ten minutes. Longer films were made up of two or three reels. At the Playhouse the programme would change mid-week. There would usually be a Pathé News film and occasionally films of topical or news interest such as the boat race, a boxing fight, or a documentary about the army or some overseas location.
If we pick just one month, June 1914, here is what was on offer:
| | | | |
| --- | --- | --- | --- |
| Title | Company | Genre | Year |
| Caught in His Own Net | Komic Films | Comedy | 1914 |
| Lucille Love, Girl of Mystery | Universal | Action | 1914 |
| 'Neath the Lions Paw | Gaumont | Drama | 1914 |
| The House of Distemperley | Folly Films | Comedy | 1914 |
| The Measure of Man | Lubin | Drama | 1914 |
| Gentleman or Thief | Biograph | Drama | 1914 |
| Love's Old Dream | Vitagraph | Comedy | 1914 |
| Out of the Depths | Rex | Drama | 1914 |
| The Fall of 64 | Universal | War Drama | 1914 |
| The Lucky Elopement | Vitagraph | Comedy | 1914 |
| The Reward | Lubin | Drama | 1914 |
| A Kentucky Romance | Kay-Bee | Drama | 1914 |
| Blame the Tailor | Biograph | Comedy | 1914 |
| Fair Game | Hepworth | Comedy | 1914 |
| How the Earth was Carpeted | Edison | Comedy | 1914 |
| Scotland for Ever | [Unknown] | Comedy | 1914 |
| Shadows | Essanay | Drama | 1914 |
| The Eternal Duet | Lubin | Drama | 1914 |
| The Family Skeleton | Kalem | Comedy | 1914 |
| The Hour of Terror | Biograph | Drama | 1914 |
| The Professor's Awakening | American Film | Drama | 1914 |
| When Billy Proposed | Nestor | Comedy | 1914 |
In addition, there were live performances by Maud Hess (soprano) and Mademoiselle Katrina (violin)
Further Sources:
https://capturingcambridge.org/mill-road-area/mill-road/44amillroad/
https://www.myoldarndtlilley.com/world-war-1-resources/movie-film-in-world-war-one/cambridge-cinema-listings/
https://www2.bfi.org.uk/whats-on/bfi-film-releases/night-cinema-1914
This post was written by Roger L., Trustee at the Museum of Cambridge.