I first saw painted animals in a city centre years ago and could only think 'what a wonderful idea'. They were so colorful, so eclectic, and – most importantly – so much fun. I remember thinking wistfully that it would be such an enjoyable project to be involved in. Now here I am, many years later having created my own version with a beautiful, little mini-moo.
When the museum approached me about designing a cow, I thought the museum was an amazing subject, but I found it difficult to pin down just one thing to represent it. I sought inspiration while wandering through its rooms of fantastic collections and beautiful everyday items from the past, pondering the artistic potential of the extensive antique hoover assortment, or the Victorian wash day paraphernalia. But the eureka moment struck when, at the top of the house, I entered the Edwardian nursery. There, in the middle of the toy-filled room, was a beautiful, much-loved, old rocking horse. As I ran my hand slowly over its black and white spots and cheerful red rockers, I could imagine a small child rocking away a lonely, rainy afternoon. And later that night dreaming of their beloved steed, magically freed, and racing with his friends across the starry night sky overhead.
I knew that children would be involved in the project, so my first step was to create a colouring page template of the rocking horse. Then children visiting the museum and school children were given the template to colour in and encouraged to make any fantastical colour horse they wished. They produced some wonderful designs complete with brilliant rainbow manes and tails, flower covered flanks, and pastel coats of every hue. I collected them all and then I took parts from each child's horse and collaged them together to make the flamboyant horses you see on the mini-moo. I wanted each child to see a little of their design on the moo.
Now, to create. The first thing to do was to paint the dark night sky with a full moon high above. This was done by combining three different blues fading into each other. Gentle clouds were added and a sprinkle of stars applied. Black silhouettes of treetops were added to the legs. When this was dry, I started adding the rocking horses (without their rockers of course) using the children's designs. When that was done, I outlined each horse in black and lastly added jewels to the harnesses and diamond crystal stars to the night sky. It took about a week of long hours to finish, sitting cross-legged on the floor and constantly covered in paint. The very last thing done was to varnish the moo in an outdoor water-resistant gloss.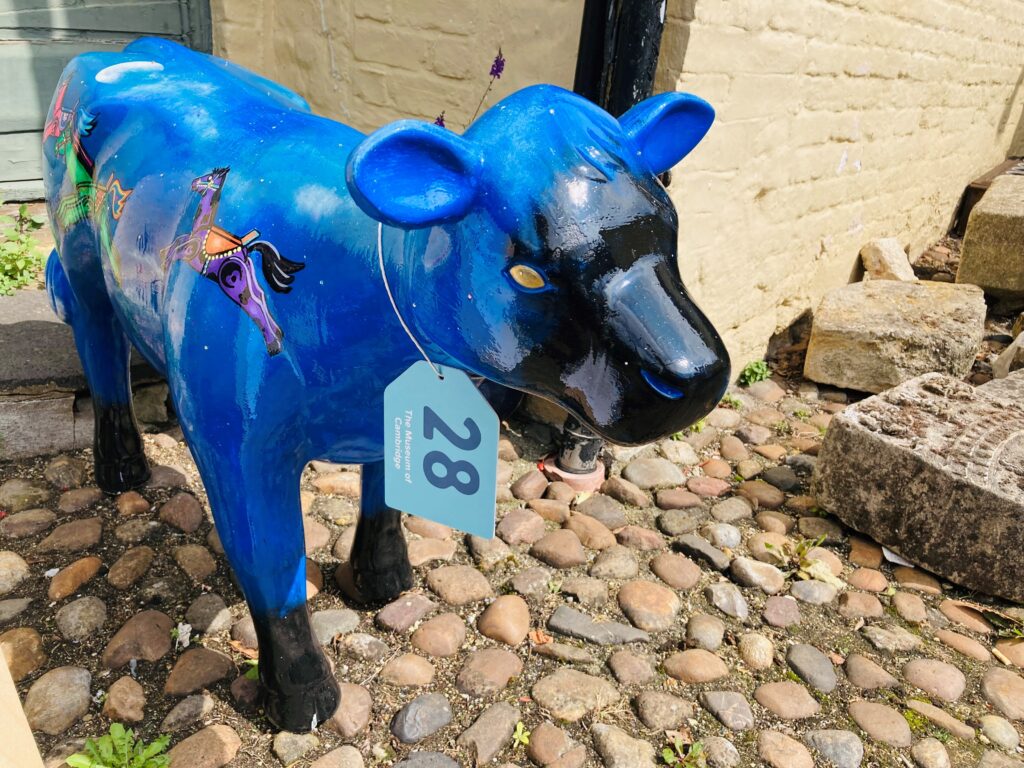 The children were consulted on the name of the mini-moo and Philippa was the chosen name. Philippa would not have happened without the children, and I was honored to have collaborated with them on this project. May there be many more. 
This post was written by Marlis Horgan.
Creating the Museum's Mini-Moo